Fisher & Paykel PROMO
$200 INSTANT REBATE ON NEXT GENERATION DISHWASHERS
See Details
$200 INSTANT REBATE ON NEXT GENERATION DISHWASHERS
Purchase a qualifying Dishwasher from a participating retailer between April 1, 2023 and September 30, 2023 and receive an instant rebate at the time of purchase.
24" Fisher & Paykel 4.0 Cu. Ft. Condensing Dryer - DE4024P1

---
Literature
Condensing dryer, 4.0 cu ft, Autosensing
This Fisher & Paykel Condensing Dryer has a 4.0 cu ft capacity allowing you to dry up to 18 bath towels at once.
Autosensing function senses the moisture level and prevents clothes from under or over drying
Condensation is collected so no need for external venting
Unique drum design gently tumble dries clothes and prevents lint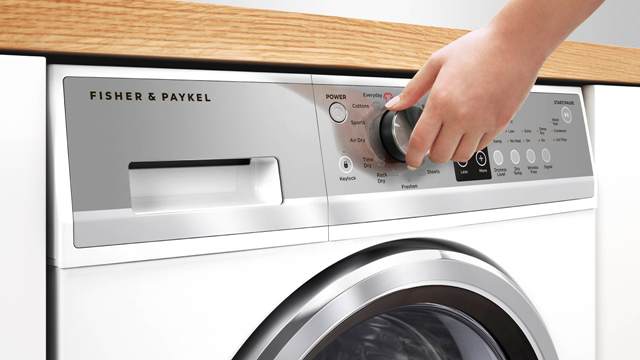 Easy to use
A large see-through door provides light when loading. A stacking kit helps you put the dryer on top of the matching washer to save space in your laundry. Comes with a hose to drain water automatically.


Fabric care
Auto-sensing function cleverly senses the moisture level in the drum and stops the cycle automatically. This prevents your clothes from under or over drying and helps them last longer.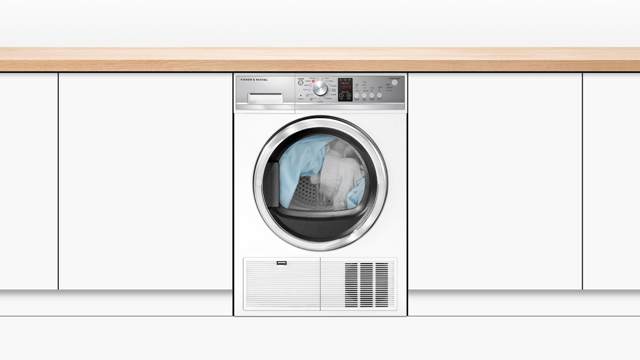 Healthier drying
Condensing technology removes water from the dryer into a tank or drain. This reduces moisture and allergens released into your laundry, compared with a front venting dryer. A healthier choice for allergy sufferers.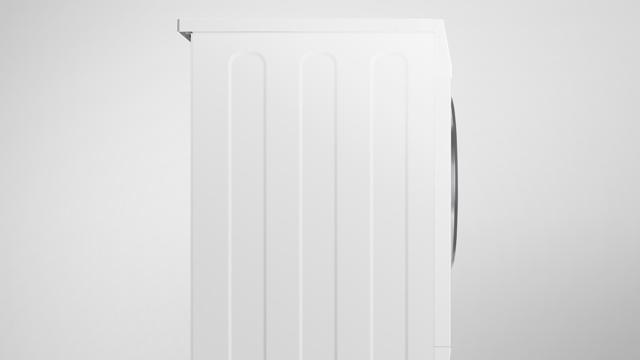 Anti vibration
Clever geometric designs on the side of your dryer and insulation inside the drum help to minimize the vibrations when in operation, keeping your dryer nice and quiet.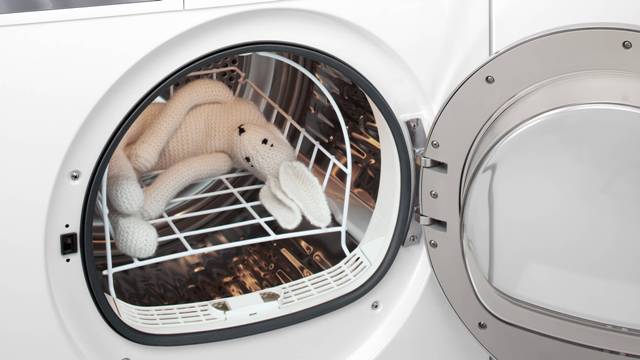 Drying rack
Some items are too precious to tumble dry so a drying rack is provided to offer a gentle drying option.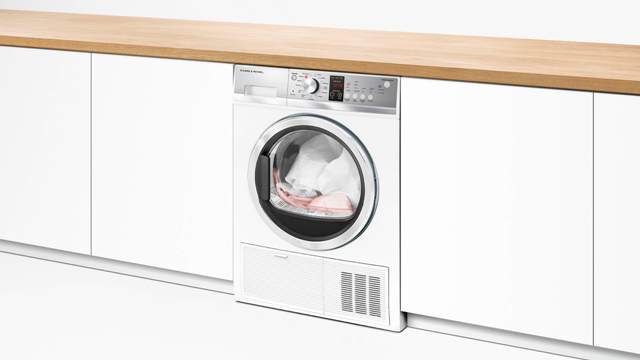 Gentle tumble
The stainless steel drum has been uniquely designed to gently tumble dry your clothing and help prevent lint from occurring.
Dry Cycles
Air Dry
Bulky
Cottons
Delicate
Everyday
Freshen
Heavy
Perm press
Rack Dry
Sanitize
Sheets
Sports
Time Dry 30
Time Dry 60
Dry Features
Clean Lint Filter Indicator
Drum Interior Light
Drying Progress Indicator
Drying rack
Easy access lint filter
End of cycle signal
Keylock
Safety restart switch
SmartTouch™ Control Dial
Stainless steel drum
Time to go
Wrinkle Free
Dry Cycles
Timed dry
10 -130 minutes at 10min intervals
Dry Features
Delay start
5, 15, 30 mins, 1-12 hours
Warranty
Parts & Labor
2 years
Performance
Dryness Levels
5
Reverse tumbling
Sheets cycle
Temperature settings
4