20" Samsung 1.1 Cu. Ft. Countertop Microwave with Glass Touch - MS11T5018AN/AC
20" Samsung 1.1 Cu. Ft. Countertop Microwave with Glass Touch - MS11T5018AE/AC
20" Samsung 1.1 Cu. Ft. Countertop Microwave with Glass Touch - MS11T5018AN/AC
Samsung 1.1 Cu. Ft. Countertop Microwave with Glass Touch - MS11T5018AP/AC
22" Samsung Solo Microwave Oven With Home Dessert - MS11T5018AC

---
Literature
Desserts made easy (Home Dessert)
Power Defrost
Glass Touch & Simple UX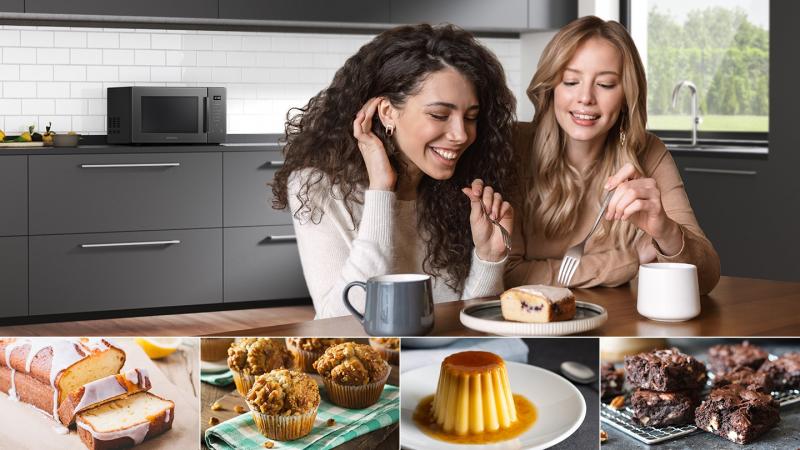 Dessert at Home
Enjoy delicious homemade desserts without heating the oven. Simply choose the dessert you want, mix the ingredients and select the Home Dessert option. With one touch of a button, you can make a wide selection of desserts, including Walnut pound cake, Banana bread, Egg pudding and Brownies.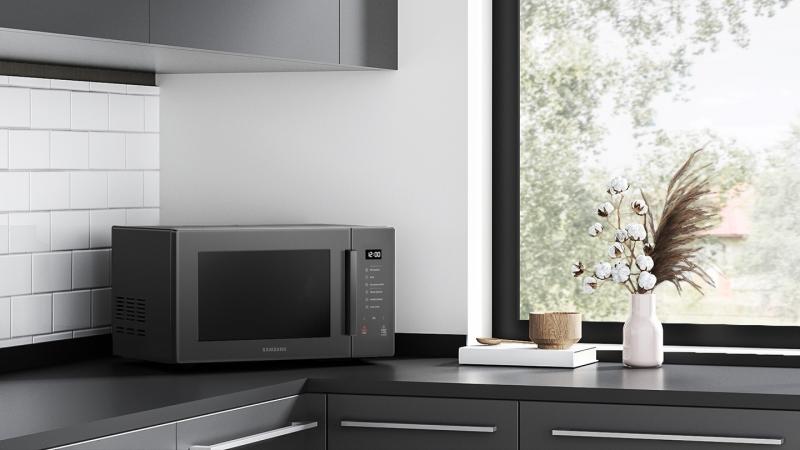 Matches your kitchen
Choose a microwave oven that matches your personal taste and the style of your kitchen. As well as featuring a stylish new countertop design.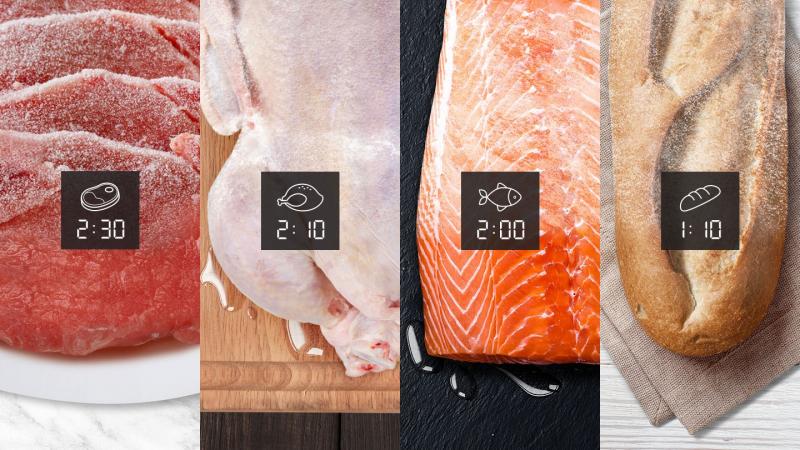 Power Defrost
Save time defrosting frozen food. With Power Defrost, you can choose from 4 popular foods: meat, poultry, fish and bread/cake. Simply enter the type and weight of food and it calculates the optimal defrosting time and power. So you can prepare ingredients quickly, while preserving nutrients.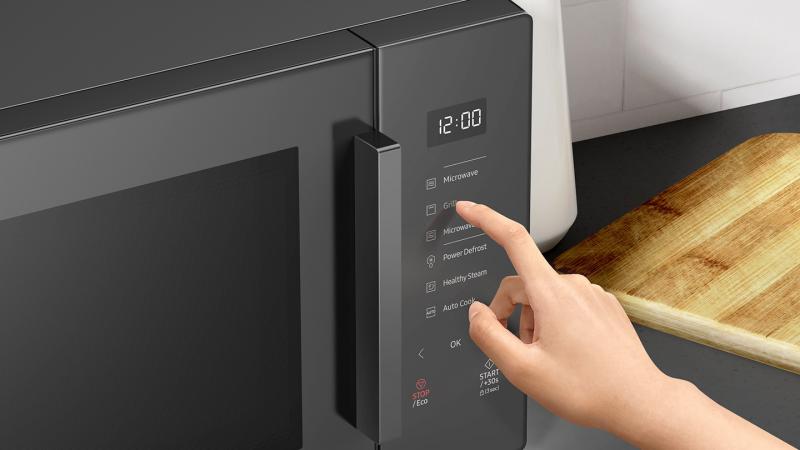 Glass Touch Control Panel
The Glass Touch control panel has 6 essential buttons, which can be selected with a touch of your finger. And, being completely made of glass, it blends seamlessly with the front, mirroring the glass door, to create a stylish minimalist look.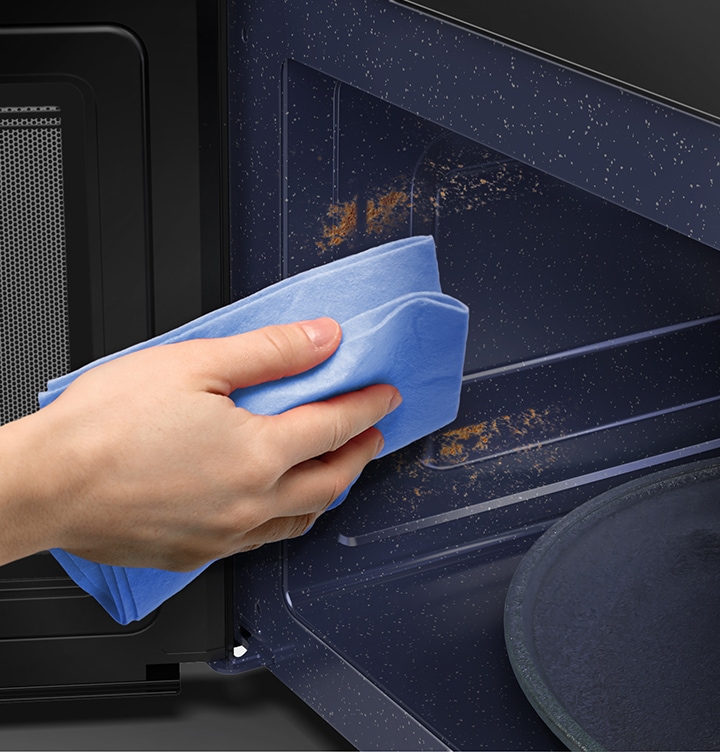 Easy clean interior
CERAMIC INSIDE™
The smooth and durable Ceramic Enamel is easy to keep clean without scrubbing and won't discolour over time. It is also rust and scratch-resistant.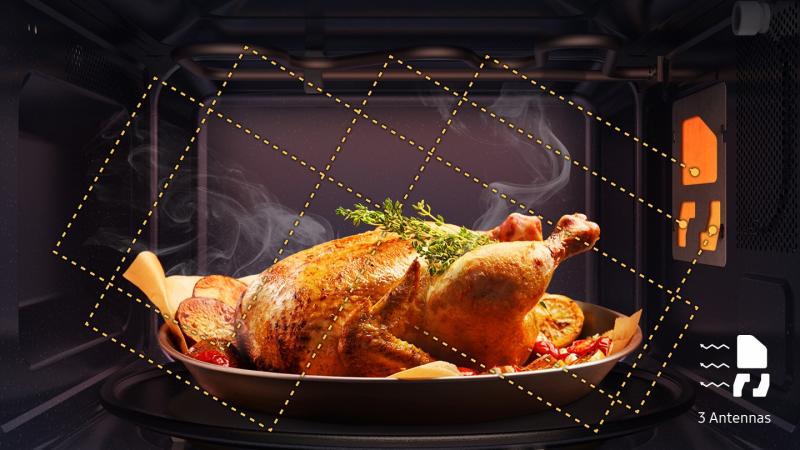 Triple Distribution System
The unique Triple Distribution System distributes microwaves in 3 directions, so they reach into every corner and penetrate food in multiple directions ensuring food is cooked thoroughly and evenly.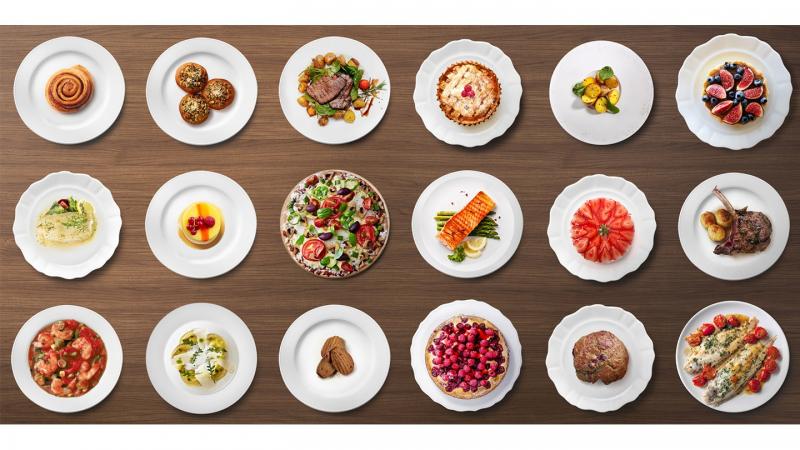 Auto Cook
Auto Cook has a choice of options for the most frequently cooked dishes. Each is pre-programmed with the optimal mode, time and temperature. Simply select the type and weight of food and press start.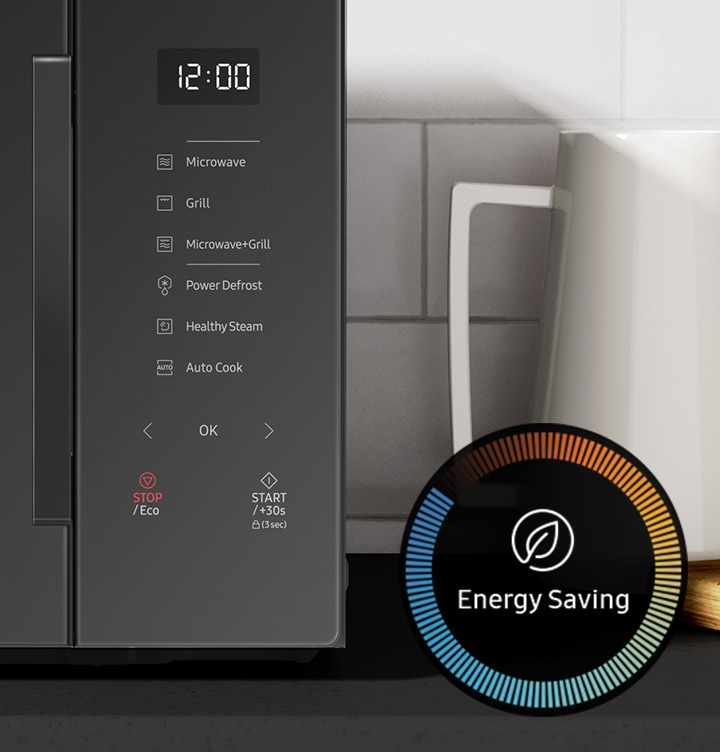 Eco Mode
Conserve energy by turning off the display when not in use.
Weights/Dimensions
Loading Quantity (20/40ft)
280/595
Weight (Shipping)
41.9 lb (19.0 kg)
Shipping (WxHxD)
22 7/16 x 14 1/4 x 18 3/8 inch (570 x 362 x 466 mm)
Accessories
Cook Book
No
Quick Guide Label
Yes
Weights/Dimensions
Cavity (WxHxD)
14 1/16 x 10 1/16 x 14 1/16 inch (357 X 255 X 357 mm)
Outside (WxHxD)
20 3/8 x 11 3/4 x 16 1/8 inch (517 x 297.3 x 410 mm)
Accessories
Built-in Kit (Trim Kits)
No
Steam Clean Accessory
No
Plate Warming Bowl
No
Power Steam Bowl
No
Glass Steamer
No
Pure Steam Bowl
No
Pro Steamer
No
Features
Language Option
No
Others
Dessert, Popcorn
Memory
No
Sound on/off
Yes
Child Safety Lock
Yes
Kitchen Timer
No
Turntable On/Off
No
Keep Warm
Yes
Steam Clean
No
Auto Cook
Yes
Auto Programs
Yes
Steam Cook
No
Auto Steam Cook
No
Sensor Cook
No
Eco Mode
Yes
Defrost (Auto / Power / Sensor)
Power
Clock
Yes
30 sec. Plus
Yes
Power/Ratings
Power Level
10
Power Consumption (Microwave)
1500 W
Power Source
120 V / 60 Hz
Weights/Dimensions
Net Weight (lbs/kg)
34.0 lb (15.4 kg)
Power/Ratings
Output Power (Microwave)
900 W
Materials/Finishes
Display Type
LED(White)
Turntable Size
318 mm
Cavity Material
Ceramic Enamel
Door Type
Side Swing
Color(Cabinet)
Black
Control Method
Touch
Color(Door)
Clean Mint
Capacity
Oven Capacity
1.1 cu.ft (30 Liter)
Type
Installation Type
Freestanding
Product Type
Solo
SMART
WiFi Embedded
No
Basic Information
Manufacturer / Importer
Samsung Electronics Co.,Ltd.