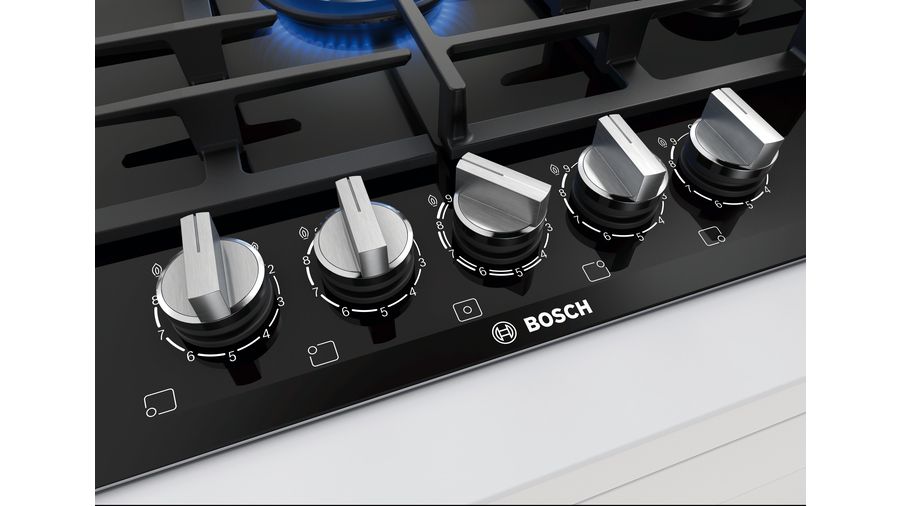 Gas cooking with a new level of precision.
Cooking with gas is versatile and simple with FlameSelect. When it comes to adjusting the flame, it can be hard to determine the exact heat level you are on. Our new gas cooktops with FlameSelect eliminate the guesswork. Equipped with nine precisely defined power levels, FlameSelect lets you easily adjust the heat level to exactly what you need. Level 1 is perfect for low and gentle simmering perfect for melting chocolate and delicate sauces, and level 9 yields a rolling boil. So you can see and get perfect results with every dish.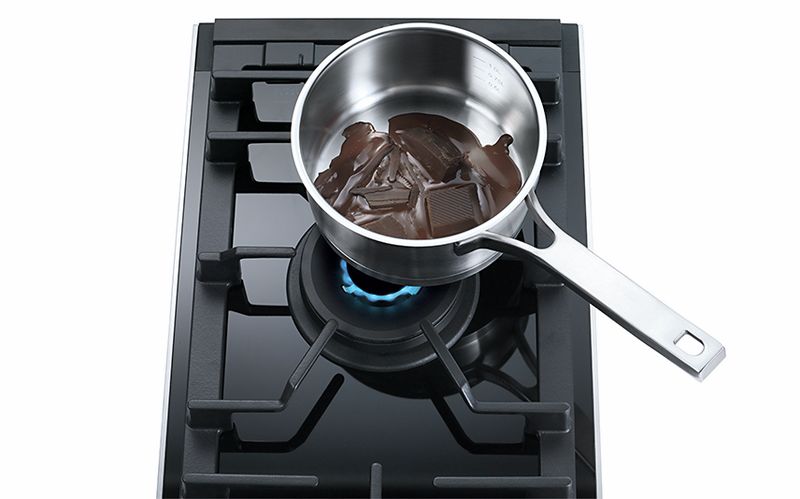 From searing to simmer in seconds.
Bosch gas cooktops with a dual flame burner provides both intense and gentle flame options and everything in between. Dual flame option, for fast boils and quick sears. Small flame option, for delicate simmers and perfect sauces. So gentle, in fact, that it even melts chocolate or reduces sauces without scorching.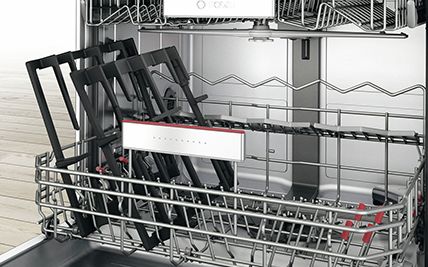 Easy clean-up with dishwasher safe grates.
With a special enameling process, the heavy-duty continuous surface grates can be easily and quickly cleaned in the dishwasher instead of by hand.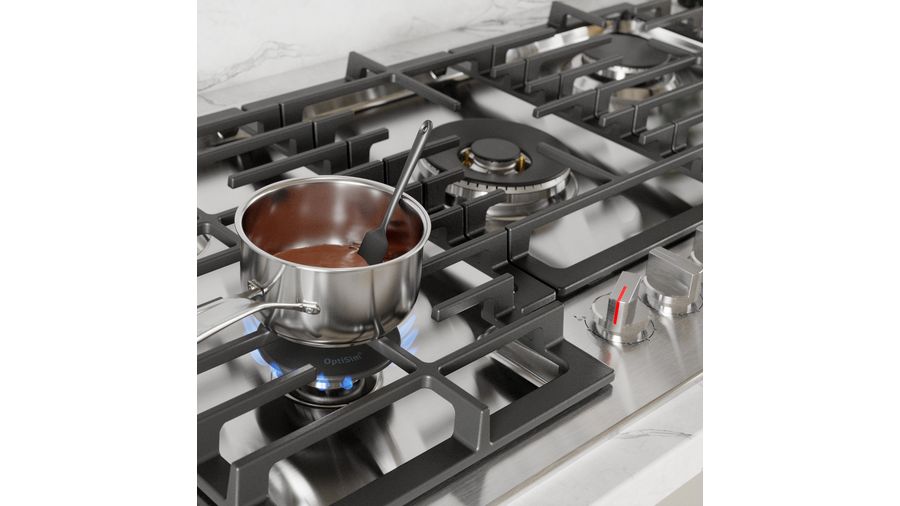 OptiSim Burner for precise simmering
Wider and thicker OptiSim burner design diffuses heat evenly for better flame control when simmering delicate sauces
Dual flame power burner with two heat options, quickly boil water or maintain a precise simmer.
Heavy-duty continuous surface grates can be easily and quickly cleaned in the dishwasher.
OptiSim Burner - Simmer delicate sauces and melt chocolate without scorching
Performance
5 Gas Burners
FlameSelect (9 Power Levels)
Dual Flame Power Burner
OptiSim Burner
Convenience
Enamelled Heavy Duty Grates Can be Cleaned in Dishwasher
Push-to-Turn Knobs With Electronic Ignition
LP Conversion Kit Included for Conversion from Natural Gas to Liquid Propane
Design
Low Profile Stainless Steel Cooking Surface
Perfect Results are Within Reach With Up-Front Centralized Controls
Cooktop Design Coordinates with Bosch Ovens and Ventilation
Safety
Flame failure safety device on each burner
GENERAL
Included accessories
1 x Simmer cap
Variant color
Stainless steel
Frame type
Frameless
Basic surface material
Stainless steel
Power of the heating elements
1 x 1.0 KW, 1 x 2.64 KW, 1 x 4.98 KW, 2 x 1.76 KW
Total number of cooktop burners
5
Type of appliance width
90 cm
Self-sufficient cooker control
Self-sufficient gas hobs
Alternative gas type
Liquid gas 27,5 mbar (USA)
Gas type
Natural gas 15 mbar (USA)
Cooktop type
Gas cooktop
Connectivity
Home Connect
No
Hob-based hood control
No
Size and weight
Overall appliance dimensions (HxWxD) (in)
1 49/64" x 36 1/32" x 20 15/32"
Net weight
19.3 kg
Net weight
42.000 lbs
Minimum distance from counter front (in)
1 7/8"
Minimum distance from rear wall (in)
2 63/64"
Cooking zone 1
Location of 1st heating element
front left
Power of heating element (W)
1 kW
Type of heating element
Gas
Cooking zone 2
Location of 2nd heating element
center left
Cooking zone 3
Location of 3rd heating element
back left
Power of 3rd heating element (W)
1.76 kW
Type of 3rd heating element
Gas
Cooking zone 4
Location of 4th heating element
middle back
Cooking zone 5
Location of 5th heating element
back right
Power of 5th heating element (W)
2.64 kW
Type of 5th heating element
Gas
Cooking zone 6
Location of 6th heating element
center right
Cooking zone 7
Location of 7th heating element
front right
Power of 7th heating element (kW)
1.76 kW
Type of 7th heating element
Gas
Cooking zone 8
Location of 8th heating element
front middle / central
Cooking zone 9
Location of 9th heating element
front centre/cent
Power of 9th heating element (kW)
4.98 kW
Type of 9th heating element
Gas
Construction type
Color of surface
Stainless steel
Construction type
Built-in
Number of electric elements
0
Number of electric cooking zones
0
Number of halogen elements
0
Installation Type
Built-in
Type of grate
Cast iron
Total number of cooktop burners
5
Number of radiant elements
0
Number of electric warming zones
0
SAFETY
Residual heat indicator
without
Type of safety device for gas
Electromagnetic for each burner
Safety device
SMARTFLAME
Connection
Location of gas connection
rear, right
Frequency
60 Hz
Energy source
Gas
Power cord length
100 cm
Power cord length (in)
40 IN
Watts
4 W
Accessories
Included accessories
1 x Simmer cap